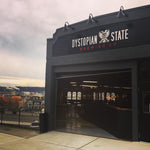 Tacoma, Washington is a hub for craft breweries, attracting both locals and visitors alike to indulge in unique, handcrafted beers. With so many options to choose from, it can be challenging to decide where to start. In this article, we will highlight some of the best-known breweries in Tacoma that are worth a visit.
1. 7 Seas Brewing
Founded in 2009, 7 Seas Brewing has quickly become one of the most popular breweries in Tacoma. They offer a wide range of award-winning beers, including their flagship beer, the Ballz Deep Double IPA. They also have a taproom where visitors can enjoy their beers, as well as a beer garden and a restaurant.
2. Pacific Brewing and Malting Co.
The Pacific Brewing and Malting Co. is located in the historic 1890s building, which was once a hotel and bar. They have a selection of unique brews that they create on site, including their popular Belgian-style Tripel. Their taproom also serves pub-style food, making it a great spot to grab a bite and enjoy a pint.
3. Wingman Brewers
Wingman Brewers has been operating in Tacoma since 2011 and is known for its high-quality, locally-sourced ingredients. They have a wide variety of beers available, including their Ace IPA and P-51 Porter. Their taproom is a great place to relax, with a laid-back atmosphere and plenty of seating.
4. Odd Otter Brewing Company
Odd Otter Brewing Company is a fun and quirky brewery that offers a unique selection of beers. They have a variety of IPAs, stouts, and lagers available, as well as a rotating selection of seasonal brews. Their taproom is cozy and inviting, making it a great spot to relax with friends.
5. Dystopian State Brewing Co.
Dystopian State Brewing Co. is a newer brewery in Tacoma, but they have already gained a loyal following. They specialize in hoppy beers, including their popular Hazy IPA and West Coast IPA. Their taproom has a sleek, modern design, making it a great spot for a night out.
In conclusion, Tacoma is home to some fantastic breweries that offer a wide variety of unique and tasty beers. Whether you're a seasoned beer connoisseur or a casual drinker, there is something for everyone to enjoy in Tacoma's brewery scene. So why not grab some friends and visit a few of these top breweries to sample some of the best craft beers Tacoma has to offer!